Welcome to outerHOST Internet Services!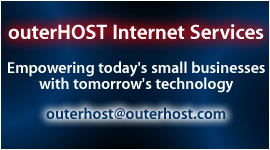 Welcome to outerHOST - your source for website hosting and development!
Established in 2002, outerHOST has been helping to fill the technical gaps that exist in today's small businesses and non-profit organizations. We do this by working with each customer directly, often on a face-to-face basis. Many of our websites are built from scratch, hand coded to the specific needs of our customers.

Whatever features you might envision your website having, we are able to design a site that can do virtually anything for you. Please don't hesitate to give us a call so that we may design a website that works for you, exactly how you want it!